Baby Massage Course on the Central Coast
About Baby Massage Courses
This 4-week cue-based massage course will provide you with skills to lovingly connect with your baby through nurturing touch techniques. Each week you will learn different strokes to promote relaxation and ease tension or discomfort.

Every baby is unique. Cue based massage provides the perfect opportunity to deepen your connection with your baby as you gain confidence recognising the ways your baby communicates. Your baby will do this through their body movements, facial expressions, and sounds. Learning to tune in to these cues and patterns can be helpful in the daily care of your baby.

The groups are also a space to connect with other parents, to share and learn from one another.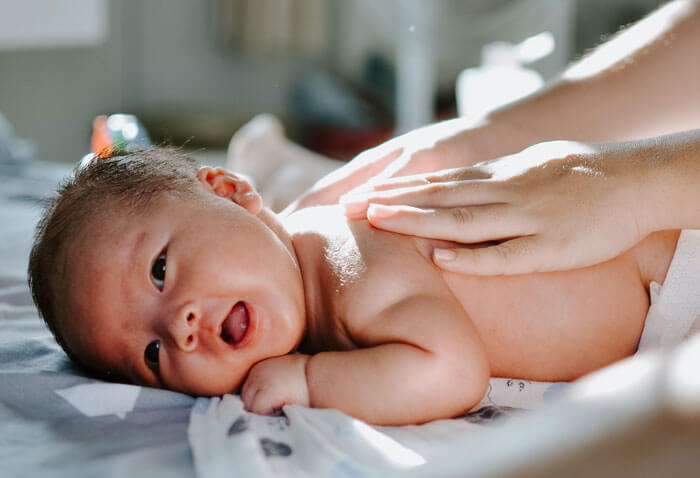 Central Coast Baby Massage Class Schedule
Upcoming 4 Week Baby Massage Classes on the Central Coast
@ Invitation To Health, 356 Henry Parry Drive, Wyoming. 
September 3rd, 10th, 17th & 24th from 10.00 am – 11.30 am
When booking online please scroll through the appointment calendar to locate your preferred course.  Please note only the first day of the course will be displayed.
"We both got a lot out of this course. Kate was so helpful and supportive. My partner was apprehensive about attending however got as much if not more out of it than me. I feel empowered to approach labour with a positive mindset rather than filled with anxiety."
We're so grateful to Kate for making the Calmbirth course available virtually and for her ongoing support. It's a scary time to be pregnant, but this course has made us feel confident, empowered and excited about our baby's birth.We highly recommend this course to all couples expecting a baby.
Jane and Phil (Zoom Calmbirth course) March 2020
Kate was highly knowledgeable of both the calm birth techniques but also the clinical reality of giving birth. Both my partner and myself now feel a lot more confident in bringing our little one into this ever-changing world. We would highly recommend this course!
Emma and Matt (Zoom Calmbirth course) March 2020
We are now heading into birth feeling as prepared as we can be, armed with a lot of useful practical knowledge and with the confidence to ask for our birth experience to be the best experience for us. I would highly recommend this course. Kate was a wonderful presenter who made us feel wholly supported.
Steph and Scott (Zoom Calmbirth Course) March 2020
A beautiful way to connect with your baby